Chrome OS Now Supports Certain US...
Chrome OS Now Supports Certain USB Docking Stations
Last Update: November 18th, 2020
Article ID: 730329
Originally authored by: Patric Neumann, October 21, 2015
Important Update – 3/30/2017 – We have written an entirely new post in regard to Chrome OS support for our USB docking stations and video adapters. We are keeping the content in this post available for historical reference, but please see our latest information in regard to Chrome OS support here -> https://plugable.com/2017/03/22/chromebook-compatibility-with-plugable-usb-docking-stations-and-video-adapters-2017/
Original post:
USB docking stations have become extremely popular on Windows. With a single USB cable back to your PC, they provide an all-in-one solution for an extra display, wired network, audio, and several powered USB ports.  Basically everything you'd typically want to turn your laptop or tablet into a powerful desktop replacement.
Six months ago we started seeing support for our USB 2.0 display adapters and docking station (which are based on the DisplayLink DL-1×5 family) in the Chrome OS development channel. While interesting, it was not ideal for the for the daily Chrome OS user in terms of stability since the development channel not only changes quite frequently and features can also be removed without notice. 
Recently, Google brought forward this functionality into the stable channel (except for Nyan board devices). So we naturally tested our USB 2.0 display adapters and docking station with the Chromebook Pixel 2015, ASUS Chromebox CN60, and HP Chromebook 11 and would like to share the experience with you.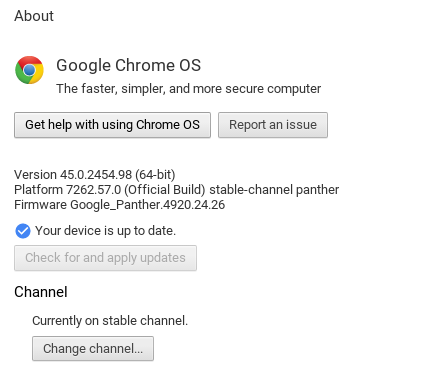 One item mentioned previously is still very important today. Chrome OS cannot support more than two active displays. You will not be able to add a third display to any Chrome OS device. The Chromium OS team has indicated that the ETA for the two plus monitor feature would be in Chrome OS at version 49. As the stable channel is currently on version 45 it could be quite some time before this feature is available. However, Chrome OS does not crash if you keep adding monitors which is an improvement over our previous test results.
For best practice we recommend connecting the monitor/peripherals first to the display adapter and or docking station and then to connect to your Chrome device.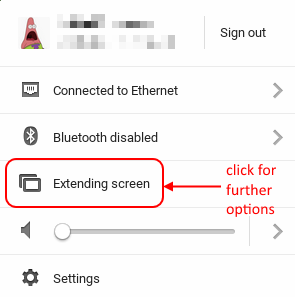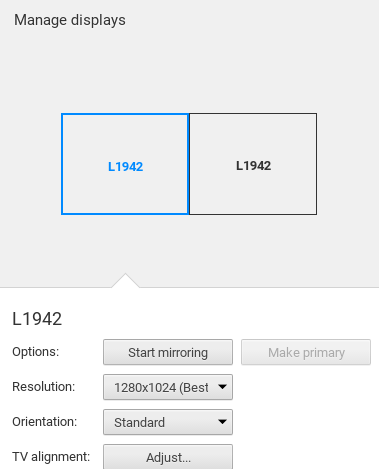 By default, Chrome OS extends the desktop but you can also mirror your desktop if you wish. The beauty of Chrome OS is the ability of a true Plug and Play experience. You connect your desired device and you are up and running in seconds. Our best example is the UD-160-A docking station whereupon plugging it into the Pixel or the HP Chromebook 11 you instantly gain an Ethernet port, headphone port, microphone port, external monitor and a four port USB hub.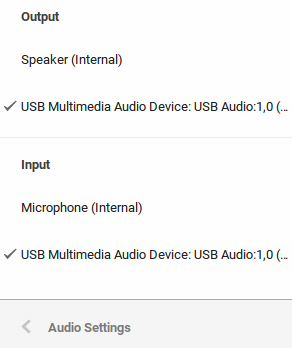 So the question is: Does it make sense for me to acquire a docking station or display adapter for my Chromebook or Chromebox? If you want single-cable docking for your extra display, keyboard, mouse, network, and headset then the answer is yes. You have a true Plug and Play experience and the docking station is especially nice if you are a Chromebook power user. 
Important to note is this support is currently only for USB 2.0 generation USB docks (like the one below).  Support for USB 3.0 generation docks may be coming in the future, but won't work yet. 
Any questions you have are welcome in the comments below.  Thanks for going out of your way for Plugable products!