The Bravura Easy Computer Sync software is asking me for a Product Key. Where do I find my Product Key?
Last Update: April 9th, 2021
Article ID: 628886
The Product Key is a 16-character alphanumeric code and is unique to each order. Since 12/01/2017, Product Keys are printed on a tag which are tied to the Transfer Cable itself like this: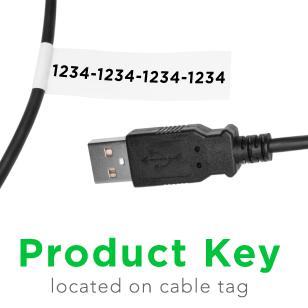 If you purchased your Transfer Cable before 12/01/2017, you should have received an email containing the Product Key. Please reach out to us directly at: support@plugable.com with your Amazon order number for help with your Product Key.

Thankfully, Amazon keeps an entire record of all purchases made on an account all the way back to the date the account was created. You may need to sort through your orders, but, the order number for the Transfer Cable will be there.