At Plugable, we make a lot of different products based on DisplayLink technology that allow you to connect additional external displays to a Windows system via a USB connection. Some examples are our popular UD-3900 dock and our UGA-3000 adapter.
Previously when adding these devices to a Windows 10 system, the attached displays had to be configured via the built-in Windows Display Settings application. Some of our customers find this utility somewhat confusing, and alternative third-party software configuration utilities from other manufacturers such as AMD, Intel and Nvidia were not designed to recognize or configure DisplayLink-connected displays, so they could not be used.
This previous limitation has been removed with the Intel's recent release of the Intel Graphics Command Center application for Windows 10 version 1709 or higher.
When using the Intel Graphics Command Center application, DisplayLink-connected displays are recognized in addition to any other attached displays: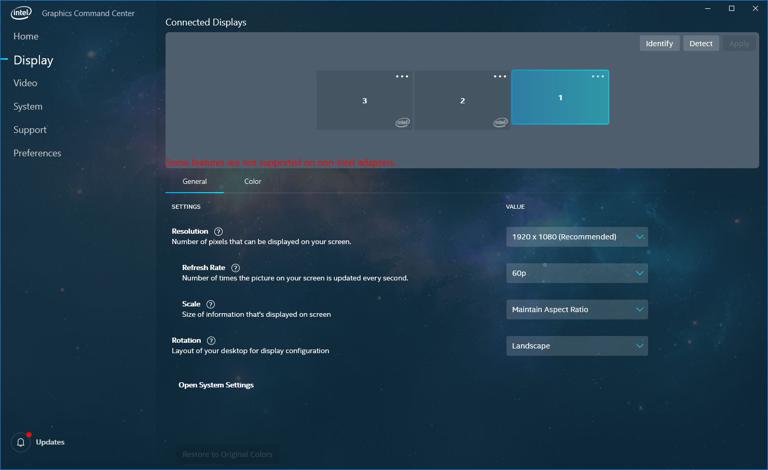 In the example screenshot above, display number three and display number two are displays directly connected to my desktop system while display number one is a HDMI display connected via our UGA-3000 adapter.
Besides the new ability to recognize DisplayLink-attached displays, the Graphics Command Center application appears to be better organized compared to the Windows Display Settings Application.
The resolution, refresh rate and scaling settings are laid out in a logical manner within a single window, while the Display Settings application makes these harder to find across different windows. In addition, Intel has made it easier to change which display is the Primary (or 'Main') display and the whether the displays are extensions or duplicates of the desktop by clicking on the ellipsis button (three dots) on each display: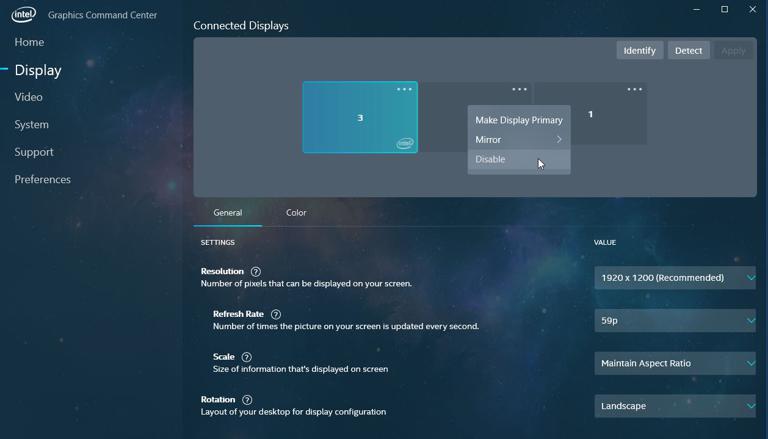 The photo below of my home office desk setup shows this in action. In this case, the small portable red display identified within the utility as display number one is connected to the UGA-3000 adapter, and the 'Identify' function of the Intel Command Center is being used to display numbers on each screen to indicate which display is which.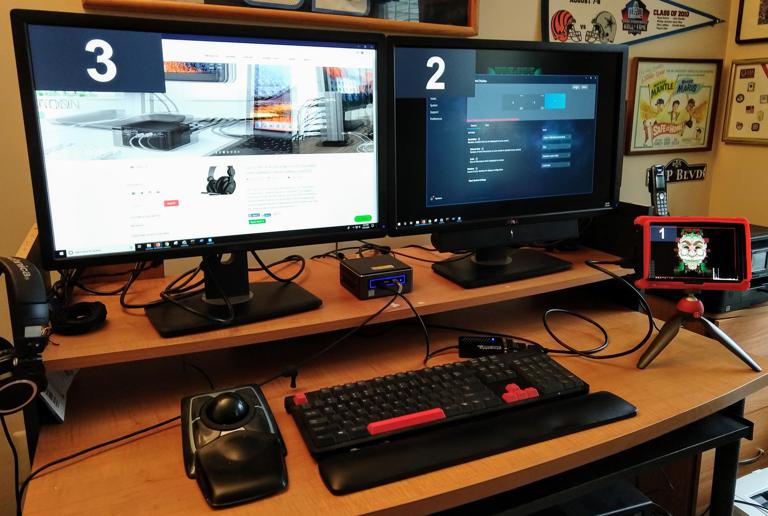 There are some caveats of which to be aware—some of the features within the Intel Command Center utility that are specific to Intel graphics adapters may not work on a DisplayLink-attached display. In the example images shown above, this is called out specifically in the warning message in red which states, "Some features are not supported on non-Intel adapters"
In conclusion, while not the most exciting thing in and of itself, that Intel has added the ability to recognize DisplayLink-attached displays provides our Windows 10 customers with more display configuration options, and the new application is in some ways easier to understand and configure compared to the Windows Display Settings application. We can only hope that AMD and Nvidia follow the same path, as more configuration options will allow everyone to use the "right tool" for their specific environment.