What is MST?
MST stands for Multi-Stream Transport and is based on DisplayPort Technology, allowing multiple uncompressed video streams to be delivered over a single DisplayPort connection (a process known as multiplexing). MST can be used over several different video port mediums, such as DisplayPort, Mini DisplayPort, Thunderbolt 3 or 4, and USB-C ports that support DisplayPort (Alt-Mode).
Two types of connections can be made when using MST. A "daisy-chain" connection where you can link multiple monitors together or an "MST Hub" configuration that can split one DisplayPort cable into multiple video outputs.
For MST to work in a daisy-chain or MST Hub configuration, monitors must support either DisplayPort 1.2 connection (or higher) or Thunderbolt, provide a video "out" port on the monitor, and have MST mode enabled in order for the monitors to work together. Note that HDMI is not supported. 

Daisy-chain example
In many cases, a monitor will not have a video "out" option; this is where an MST Hub will become necessary to break out the video signal to each monitor individually.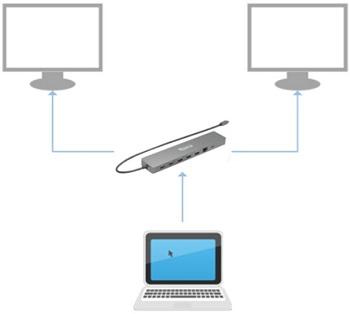 Plugable's USBC-11IN1E shown in this MST Hub example
Will I need additional software to use MST?
MST does not require any additional software and will connect directly to the host GPU in order to bring high-resolution, uncompressed video that is beneficial in a variety of applications such as graphics design and video editing. Resolutions will vary depending on the specifications of the GPU. DisplayPort 1.4 GPUs will support higher resolutions and refresh rates than DisplayPort 1.2, for example. 
It is recommended to use the most up-to-date GPU drivers from your laptop or GPU manufacturer.
Which operating systems support MST?
MST is supported by Windows 11, 10, Windows 8/8.1, Windows 7, and Chrome OS.    
MST is currently not supported by macOS or Mac OS X.
Compatible Plugable MST devices
Now that we have a better idea of MST, Plugable is excited to introduce several MST compatible hubs and docking stations that can help boost productivity and provide external monitor support, including the ability to provide other capabilities such as USB, Ethernet, and even Audio. Some supported products are,  
Some of our Thunderbolt supported products include,